Welcome to my Wine Cellar. This site will be devoted to wine and all things related. I hope to create a hypertext wine list of my favorites, links to my favorite wineries, and photos and experiences I've had in the wine country.
--Scott
I picked Cabernet grapes at EDEN CANYON VINYARDS!
Click on the photo to watch me turn them into WINE!
Wonderful Wilderness Wines article by Linda Gabris
A simple, easy to follow guide to making your own wine at home without a major investment.
Eden Canyon Vineyards on T.V.
Eden Canyon Vineyards on "In Wine Country" on NBC
Don't forget to look at the GRAPE PRESSING photos.
Contrary to what some folks believe, making wine is not difficult to master. Nor is it an expensive hobby to get started in. Truth is, if one enjoys being outdoors, foraging goods for the wine barrel will open up a whole new world of recreational fun. And once you've rounded up the equipment needed, you'll be delightfully surprised at what fine wines you can enjoy at so little expense.
(Taken from article in Backwoods Home Magazine)
I'm actually doing it! Out in the Blackberry patch

Check out my Blackberry wine making adventures! Click on the Photo.
E-How How to make Blackberry wine.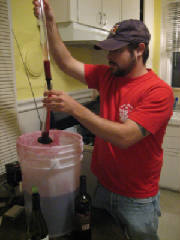 Oak Barrel Winecraft in Berkely CA