After working on this site for over a year, I realized that I may get web traffic from people who don't know me, and my front page doesn't really say who I am.

I want a way to let people know who I am, and what I have been up to.

This section will allow me to do just that.
I am trying to write about who I am and I am having a hard time getting started.


The Hale Fam, 1985
Click on image to enlarge.




This reminds me of a scene in the movie "Anger Management" , with Adam Sandler. Jack Nicholson is the anger management therapist and he asks Adam to tell the group about himself. He begins by stating his occupation. Buddy, (Jack Nicholson) explains that he didn't ask him to state his occupation, rather to tell the group who he is. So Adam starts describing his personality. Jack tells him that he didn't ask him to describe his personality, he wants to know, "who he is." Adam gets flustered and says that he doesn't know what they want him to say. He asks another group member,"What did you say?", but Buddy condescends,"Now he wants Lou to tell him who he is!" The whole group laughs at Adam.



I kinda feel like Adam Sandler at that moment. Who am I? I could start out by stating my occupation like Adam did.



I am a Visual FX Artist. More specifically, I am a Digital Compositor. That means I assemble and prepare the final FX shot for film. But even though I love it, it isn't "who I am."



I am from Northern Virginia, 12 miles west of Washington DC.I was born at Fairfax Hospital just outside the Capitol Beltway. My father, Robert, worked at the Congressional Budget Office in D.C., and my mother, who was an elementary school teacher before I was born, was an educator at the Smithsonian Natural History Museum. Some of my oldest memories are walking through the halls of that giant place that smells of moth balls and old woolly mammoth fur. I have a younger brother, Michael. He is 2 years younger than I am.



But is this "who I am", or just my personal history? They never really resolve the "who am I?" question in "Anger Management". It was just a springboard for getting Adam angry. Very funny, but I guess the quest of "self" "discovery" continues.



I graduated from Falls Church High School in 1996 with recognition of achievement awards for Drama and Art. I took 2 art classes a year through high school and was in almost every play that was performed during my four years. And in an unprecedented move,I came back to make one more appearance in "Arsenic and Old Lace" in 1997.












In the fall of 1996, I moved to Savannah, Georgia, to attend The Savannah College of Art and Design.
What a place! To go cup info at bottom of article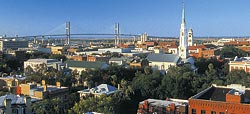 What's this I've been hearing about walking around town with alcohol in plastic cups? Is this legal?
I double majored in 2/d animation and Video/Film. I really grew a lot and had amazing experiences at SCAD. I learned a lot in and out of school. Spending almost 6 years in the south is an experience that has shaped my character and given me a point of view I never would have seen anywhere else.







Savannah is an interesting animal. If you want a crash course in "what's Savannah like?", rent the movie "Midnight in the Garden of Good and Evil" with John Cusack and Kevin Spacey, Directed by Clint Eastwood, or read the book the movie was inspired by By John Berendt.






After SCAD, I moved to Los Angeles. I got an apartment in Glendale and started my job search.

I sent my reel everywhere and I interviewed everywhere! I interviewed for a runner position at recording studios and I did voice over auditions. I was searching Craigslist and the Hollywood Creative Directory daily answering any job related to art, film, music, animation and anything that caught my eye.

Then I saw a listing in the Hollywood Creative Directory that changed my life.

After Effects Animator wanted! The maker of "The Last Broadcast" is making a hollywood ghost story.

I had seen "The Last Broadcast" at SCAD and dug it. This was an indie film that had a really good chance of getting picked up, so I excitedly sent them my reel. My reel at that time was a big package containing two flatbooks, a cd of music and sound design, my reel, and a feedback card with a stamp and return address. I never got one of those back.

But I did get a call. It was from Marianne Connor. She was the producer of the film, which she informed me was called "The Ghosts of Edendale" She wanted to know if I would like to arrange an interview. I accepted and rushed over there probably that same day. Coincidentally the production studio was in Silverlake, only a few minutes from where I lived.

Stafan Avalos answered the door. He welcomed me with a warm, mischevious smile, which was appropriate because I recognized his face from somewhere but couldn't place it.

Stefan also starred in "The Last Broadcast", which he co-wrote and directed with Lance Weiler. In "TLB" They both play Cable access T.V. host who get brutally murdered. Here is this man standing in front of me who got brutally murdered in a movie I saw more than two years prior. I hadn't seen the movie since.

So, standing in the doorway of the house which was the haunted house on Edendale Hill, staring a dead man in the face, I introduced myself to the two people who would become good friends and mentors.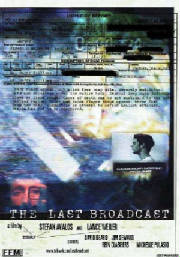 Continue the Los Angeles story
I was in Los Angeles for about a year when I got a call from Tippett Studio. They asked me if I would be interested in working on Starship Troopers 2! I flipped out. They said they would call me back in a week for an interview. When they called back, it was a conference call with the visual fx supervisor, fx producer and lead compositor. We talked about my reel and the next day I got a call back saying to come on up to Berkeley.
I had a great stay at Tippett Studio. I was a Digital Compositor on 3 films and worked with cool people. Things slowed down and after Son of the Mask wrapped there were no more pixels for me to chomp.
Feeling the creative calling myself, in fall of 2004 I began production on Xtraterrestrials Xposed, a mock documentary about a ufo conspiracy nut's attempt to prove the existence of aliens.
In the spring of 2005, I had completed the first stage of production and Cafe FX invited me to Santa Maria, California to work on The Adventures of Sharkboy and Lavagirl in 3D as a digital compositor. This is a kids feature film in 3D with the glasses and everything.
Santa Maria has been in the news a lot recently, with the infamous Michael Jackson molestation trial, and the movie Sideways about the cental coast wine country.
I got back from Santa Maria in the spring of 2005. I finnished up on Sharkboy on a friday and the following monday I had an interview at The Ex'pression College for Digital Art in Emeryville. I accepted an offer to become a Lab Facilitator in various Visual Effects and Animation classes.
It wasn't long before I was offered a full time teaching gig.
I was teaching two classes and labbing others. In my free time I was editing and filming more for my Mock-Doc. I was teaching "full time" at Ex'pression for 6 months.
Ex'pression College for Digital Media
With a little luck I found a nice place in a good location.

Over a year in Oakland!
Click the link below to see photos of my digs!
Feeling disconnected from hollywood, I began a Job search. After a month of casual browsing and then a few weeks of fevered mailings I got an interview at Tweak Films. I was hired the first week of January, 2006.
Tweak Films is a focused team of accomplished VFX artists and graphics researchers.

Tweak worked on projects such as Return of the King, providing Weta Digital with custom software to simulate the destruction of Barad-Dur (tower) and various ground cracking/destruction effects, created effects for two Matrix sequels, and created the tidal wave in The Day After Tomorrow which won the VES Best Single Visual Effect of the Year.
I composited on the film "Invincible" with Mark Wahlberg and Greg Kinnear. It's about the 1976 Philadelphia Eagles and the "walk on" player Vince Papale.